Cardinal Mieczysław Ledóchowski 1822 - 1902,
Primate of Poland
Mieczysław Ledóchowski, based in the Prussian partition and decorated by Kaiser Wilhelm I of the German Reich, defended the Church and Polish culture against Bismarck's Kulturkampf.  He was imprisoned, promoted to Cardinal, expelled from Germany and became a national hero.
*****

Mieczysław Jan od Krzyża Ledóchowski was born at 4pm on 29th October 1822 in the Ledóchowski family home of Górki, near Klimontów in the district of Sandomierz, in the Russian partition.  He was the third child of Józef Ledóchowski (1786 –1859) and Maria Rozalia née Zakrzewska (1799 -1863). 


A childhood surrounded by patriotism and religion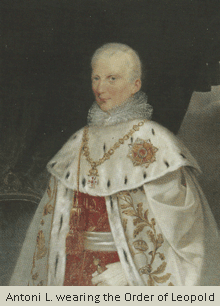 Mieczysław's grandfather Antoni, owner of the Górki home, was a deputy to the last great four-year Polish Parliament or Wielki Sejm, vigorously supported Polish independence, and made large donations to fund the Polish Army and the Kościuszko Uprising.  After the partitions he sold his properties in the Russian partition, moved to the Austrian partition, and funded repairs to his local church in Klimontów.  In 1818 he retired, first to the monastery of the Franciscan Observance Order in Sandomierz and then to the Order of  Missionary Fathers in Warsaw.  He lived until Mieczysław was 13.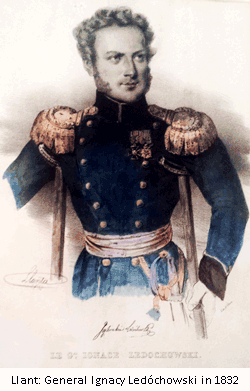 Mieczysław's uncle Ignacy fought for Poland during the Napoleonic Wars, lost a leg at the Battle of Lebiau in 1813, was Commander of the Warsaw Arsenal in 1830, and led the epic defence of the Modlin Fortress in 1831.  He retired to the Dominican monastery in Klimontów, near Mieczysław's home in Górki, and died when Mieczysław was 48.


Mieczysław's mother Maria Rozalia née Zakrzewska was responsible for giving him that name, the first instance for a known Ledóchowski.  Via the internet I have found references to a few earlier Zakrzewskis called Mieczysław, but no evidence as to how closely they were related.  Mieczysław means "he who achieved fame by the sword", "miecz" being sword.  A common nickname for Mieczysław is "Miecio".  
As the "holy" Prince Mieszko I, whose name was also derived from Mieczysław, had converted Poland to Christianity in 966AD (2), Maria Rozalia got permission from Bishop Prosper Burzyński of Sandomierz to give her son that name, even though no Mieczysław had yet been sanctified or beatified.  She replied, "Pray God that my son be the first" (4, pp47-8).  The baby's second name, Jan od Krzyża, means John of the Cross, after a Spanish mystic and saint who was tortured for his faith and died at the
relatively early age of 49 (3) . 
In addition to bringing up five children and looking after a weak husband, Maria Rozalia actively defended the Greek Catholic Church in the Russian partition, sent the Pope evidence of Russian oppression, was arrested and interned by the Russian police, was eventually banned from Russia for life, and retired to a Bernadine convent in Kraków.  
Mieczysław himself was fond of recalling in later life that his mother used to say to him "I wish with all my heart that you will die a missionary and a martyr" (4, p46).   She lived until Mieczysław was 41.
Distinguished house guests included family from Vienna, local landowners and Jewish businessmen,  the rabbi of Klimontów and successive bishops of Sandomierz. 

Mieczysław was initially educated at home in Górki, where his mother, who was herself exceptionally highly educated, taught him French, German and Italian. 
The failed November Uprising, in which his uncle, General Ignacy, was a leading commander, took place while Mieczysław was 9 and would have made a lasting impression on his family.  At 12 Ignacy was sent to a boarding school in Radom.  
His final year was at high school in Warsaw, where he got a medal for being best at Russian.  
Mieczysław also went on several family trips to stay with his father's brothers Tadeusz and Tymoteusz, senior Austrian Army officers, in Vienna, where he could practise his German, although he was never especially good at it, apparently.
For the holidays he would come home to Górki, where the family were particularly friendly with the deputy parish priest at Klimontów, Fr Krupiński.  
1841: Ecclesiastical Studies
Mieczysław had wanted to be a priest for several years.  After school he joined the seminary of the Holy Cross in Warsaw run by the Order of Missionary Fathers, where his grandfather Antoni had retired and died in 1835, six years earlier.   But before going he accepted his priestly cassock from the then acting Bishop of Sandomierz, Klemens Bąkiewicz, at  an investiture ceremony in St. Joseph's Church, Klimontów, on 17th August 1841, when he was just under 19.  His father Józef expressed his joy in a speech which lasts three pages in Barącz' book (9, pp149-152).

Two years later, Maria Rozalia took her son Mieczysław to study at the Pontifical Academy of Ecclesiastical Nobility (now known as the Pontifical Ecclesiastical Academy) in Rome, which trained Vatican diplomats. 
As discussed in the article about Maria Rozalia, she was anxious to give information about oppression of the Catholic Church in the Russian partition, which led to three audiences with Pope Gregory XVI. 
During their first audience, on 9th October 1841, the Pope gave the 21 year old Mieczysław his personal blessing.  He and his mother gave the Pope a particularly valuable gift: a 1593 Kraków edition of the bible, translated into Polish by Father Wujek.  Mieczysław was ordained a priest by Cardinal Lambruschini on 13th July 1845.  His mother Maria Rozalia, having by then been arrested by the Russian partition police for spying, was unable to attend the ceremony and authorised the Cardinal to bless her son on her behalf.   
During his time in Rome Mieczysław became fluent in French, Italian and Latin as well as excellent Russian and less proficient German.  He kept in close contact with the Polish community there including people from well known families such as Branicki, Chłapowski, Lubomirski, Morawski, Popiel and Żółtowski, and he met Adam Mickiewicz.   Receiving information from his mother in Poland, he prepared his own memorandum on the oppression of the Catholic Church in the Russian partition and delivered it personally to the next Pope, Pius IX, in October 1846.  He was awarded a doctorate in theology and law in 1847.



1850: Rome, Spain and Portugal
Mieczysław initially worked in the Vatican on relations with states with which the Church had signed a concordat.  

In 1850, aged 28, he was sent to Spain with cardinal's hats which the Queen of Spain put on two newly promoted Cardinals.  There she made Mieczysław a Commander of the Order of Queen Isabella the Catholic. 

In 1852, aged 30, Mieczysław was sent to Portugal for four years, where he worked as secretary and assistant to the Apostolic Delegate or Papal Nuncio (ambassador).  However the Nuncio fell seriously ill and Mieczysław gained considerable experience running important and delicate matters on his behalf.   He got to know the Queen and her son, who became King Don Pedro V in 1853 and who awarded Mieczysław the Order of the Guard of the Immaculate Conception.

After returning to Rome, Mieczysław had a chance to go to Vienna and stay with his family.  They had in the meanwhile moved there from the Russian partition and included his mother Maria Rozalia, who had been released from internment by the Russian police in Warsaw.  This was his last opportunity to be with them for a long time.



1856: Nuncio in South America, Civil War, Escape

This portrait of Mieczysław, by la Costa in Rome in 1856, shows him wearing the Papal Order of the Holy Sepulchre as well as the Spanish and Portuguese orders mentioned above.  Today it is in the Archbishop's residence in Gniezno.  It was painted just before he sailed on the ship "La Plata" from Le Havre as Apostolic Delegate or Papal Nuncio (ambassador), a responsible position for a 34 year old, to Bogota, today the capital of Colombia, and then the capital of a large state known as the Republic of New Granada, which included today's Colombia and Panama, and parts of Nicaragua, Costa Rica, Ecuador, Venezuela, Peru and Brazil.  In 1858 New Granada became a more decentralised country, the Granadine Confederation.

Mieczysław found the unfamiliar swarms of mosquitos and other insects very difficult.  As Nuncio he was expressly forbidden from smoking cigars, the local antidote, in public.  So when he visited a convent, both he and the nuns would desperately hope the meeting will end quickly so they could resume smoking unseen by each other as soon as possible. 
In the Papal embassy, parties were not held in the formal reception rooms.  Instead they used rather bare rooms in which everyone could merrily spit everywhere without concern for the elegant furniture and carpets.



The country was in turmoil.  During a civil war General Mosquera took Bogota and arrested foreign Ambassadors.  Mieczysław successfully lobbied for their release.  Mosquera then relaunched a major campaign against the Catholic Church, confiscating schools, hospitals, churches, monasteries and land, giving Jesuits for example only 72 hours to leave the country or be imprisoned.  Thanks to a warning from the grateful British and French Ambassadors, Mieczysław avoided assassination and eventually, on the British ship "Paladin", escaped to Jamaica, and then on to Cuba and England.

While Mieczysław was away in South America his father Józef and his elder brother Juliusz had died, both in 1859, and his mother Maria Rozalia had moved to the Bernardine Sisters convent in Kraków.  He arrived back in Rome in September 1861. 
This first hand experience of religious persecution would be useful for Mieczysław in later life.  



1862: Nuncio to Belgium
Pope Pius IX must have been reasonably happy with Mieczysław's performance in Bogota as he promoted him to Archbishop at the age of 39.  He was consecrated in Rome on 3rd November 1861.  Witnesses included diplomats and clergy of many nations, the veteran General Szymanowski, who was now serving in the Papal Army, and Konstanty Czartoryski, who had come to brief the Pope on the state of the Church in Poland.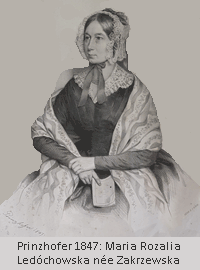 On the day of his consecration Mieczysław received papers appointing him Nuncio to Belgium.  Of over 300 ever appointed he was one of only four who were not Italian.  He started officially on 16th February 1862 after presenting himself to King Leopold I in Brussels.  The King was Protestant and had some problems with the Catholic Church in Belgium, and also with the reunification of Italy taking place at the time, but Mieczysław is supposed to have handled everything tactfully.  The next King, Leopold II, awarded him the Order of Leopold.

During this period the health of Mieczysław's mother Maria Rozalia started failing.  She left the convent in Kraków and joined her son in Brussels in early 1862.  She then moved to Paris where she died in 1863. 
When Mieczysław's term in Brussels was ending it seems he went to his family in Vienna for Christmas as he buried his mother there on 22nd December 1865.
1866: Archbishop of Gniezno-Poznań
On 12th March 1865, while Mieczysław was still in Brussels, the Archbishop of Gniezno-Poznań, Leon Przyłuski, died.  As the Vatican had not recognised the partitions, the Archbishop of this first Polish diocese ever was still automatically Primate of Poland.  However the archdiocese was in Western Poland which was now in the Prussian partition.  So Pope Pius IX began negotiating the succession with the Prussian government and proposed the 43 year old Mieczysław. 

It would be normal, wherever possible in the Catholic Church, for an Archbishop and above all the Primate to be from the local country, in this case a Pole.  But for the same reason the Prussian government said he should be a Prussian, or at least a German.  The Poles were unhappy with Mieczysław because as a leading cleric they had been lobbying him for years to support Polish independence and he was reluctant, saying that his duty was to the universal Catholic Church and not to get involved in local nationalist causes.  He had also spent his entire adult life outside Poland and had lost touch with the language and people.  The Pope told the Prussians on the other hand that it was precisely this neutrality and wide international experience that made Mieczysław such a good candidate. 

Mieczysław's appointment was eventually approved, and announced in Rome on 8th January 1866.  He presented himself, giving the customary oath of loyalty, to King Wilhelm I of Prussia in the capital, Berlin, on 14th April 1866, and 10 days later he was formally inaugurated in Poznan.  He was to hold this post for 20 years, of which 8 would be at work in the diocese, 2 in jail and 10 in exile. 


Initially Mieczysław found it rather difficult.  His German was not that good, and (my apologies to Poznań readers) he found Poznań (population 40,000) a small provincial city compared to Brussels, Rome and especially Vienna.  He caused resentment by stressing that Poles should be loyal to the Prussian government.  He banned political demonstrations such as singing the patriotic hymn "God who protects Poland" ("Boże, coś Polskę..") in churches.  He wanted to protect the Church from government attack.

He visited Berlin regularly.  As there was no Nuncio for a while he was treated as acting Nuncio.  He believed he should develop good relations with the ruling elite and befriend the royal family.  He used this to ask the Prussian Queen Augusta to intervene with Tsar Alexander II against oppression of the Catholic Church in the Russian partition. 
On 13th January 1868 King Wilhelm I personally awarded Mieczysław the Order of the Red Eagle in diamonds at a ball held in his honour in the royal palace. 
1871: The German Empire = the Reich
Meanwhile Otto von Bismarck,  the "Minister President" or Prime Minister of Prussia, was taking advantage of rising nationalism, and building a united Germany.  In 1864, in alliance with Austria, he attacked Denmark, took Schleswig-Holstein and shared it with Austria. 
In early 1866 Bismarck attacked the Austrians and threw them out of Schleswig-Holstein, where he started Germanising the people.  In July he defeated Austria at the Battle of Sadowa / Königgrätz and in August he created the Confederation of all Northern German states at the Treaty of Prague. 
In 1870, in the Franco-Prussian War, he attacked France, took Paris and deposed the French Emperor Napoleon III.  

In 1871, at the Treaty of Frankfurt signed on 10th May, the victorious Bismarck compelled France to recognise the incorporation of remaining states in Southern Germany into a new German Empire, the German Reich.  Bismarck was now Chancellor and Wilhelm I was the Emperor or Kaiser.



1872: Kulturkampf
In prior decades there had been a growing battle between the Vatican and European liberals over issues such as freedom of religion, civil marriage, and the separation of church from state or "secularisation".  This culminated in the dogma of Papal Infallibility, declared in 1870 and considered a threat by Gladstone and many European governments such as France, which refused to allow it even to be published.  Bismarck had also been trying to secularise Prussia, which had already brought him into conflict with the dominant Protestant church.  Finding himself in charge of the new German Empire with a 36.5% Catholic population, and in some member states even a majority of Catholics, Bismarck now focused on the Catholic Church, which had also supported the Catholic countries Austria and France during their wars against Protestant Prussia.


In 1872 Adalbert Falk was appointed Prussian Minister for religion, education and health.  A series of laws were then passed, the most far reaching ones in May 1873 (the "May Laws"), attacking the Churches.  They established state law and courts as superior to Church law and courts, declared that judgements by the Holy See would no longer be binding, and abolished Church supervision of primary school education. 
During a debate on a new Kulturexamen or culture exam for clerics, whose training would be supervised by the state, the Progressive Party described the campaign as a "grossen Kulturkampf" or "great cultural struggle" and this description was adopted by all sides.

The Catholic Church fought back, particularly against a new education test for priesthood (a graduate degree from a German high school and three years of theology  at a German university) and a requirement that all clerical appointments had to be approved by the state.  Bishops refused to implement the law in their dioceses and hundreds of clerics were fined or imprisoned for disobedience.



1873: Archbishop Mieczysław fights back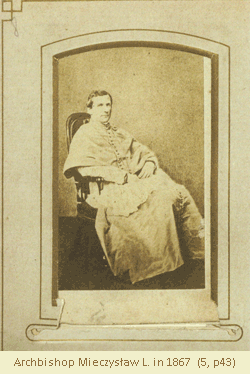 Mieczysław also fought back, ignoring many of the May Laws in the Polish partition, with the full support of the Pope.  However the Kulturkampf had in addition a nationalist aspect, as Bismarck considered the Poles, like the Danes of Schleswig-Holstein, had to be Germanised and he was particularly antagonistic towards them as they had publicly demonstrated their support for his enemy France during the Franco-Prussian War.  Clerics had to be German citizens and German was to replace Polish as the official language of education in all schools.  So Mieczysław continued appointing priests himself, and ordered them to continue using Polish in seminaries and other church affairs, and to establish Polish language private schools.

After several fines, Mieczysław received a letter dated 24th November 1873 from Günther, Head of the Poznań Province, quoting one of the May Laws, calling on him to resign from his post as Archbishop and asking him for written confirmation within a week.  The letter went on to say that if the Archbishop refused he would be prosecuted in the Royal Court for Church Affairs. 
Mieczysław replied that he had been appointed to manage this small part of the Church by the Pope, and no secular power had the authority to terminate his mission.  In revenge, the Government closed Church seminaries and schools. 


1874: Arrested, a national hero
The Poznań Courier reported on 3rd February 1874 (5, p45) that Mieczysław had been arrested at 4am that morning and "remained calm and dignified".   He was jailed in Ostrów Wielkopolski.  On 18th April a Berlin court removed him from his post as Archbishop. 
The Catholic Church's fight against Kulturkamp was now also a fight by Poles for their language, history and culture.  Mieczysław, once decorated by Kaiser Wilhelm I, Emperor of the German Reich, and always a loyal man of the Catholic Church, was now also a Polish national hero.

There was a spontaneous outburst of support.  The Archbishops of Köln/Cologne, Breslau/Wrocław and Polplin/Pelplin sent messages, delegations came from Catholic organisations in Belgium, Austria and England, and numerous Polish friends and relations, including Władysławowa Cartoryska of Gołuchów, Chłapowskis, Morawskis, Lubomirskis and Sapiehas, visited Mieczysław in jail. 
Mieczysław's secretary Fr. Meszczyński came to live in the town to work with him on diocesan matters and his butler Mr. Olejniczak came to "live" in the jail to look after him. 
On Mieczysław's birthday, 29th October, the jail porter played the violin by his door and visitors even included the jail inspector with his three daughters.  The first wished Mieczysław health, the second happiness and the third freedom.

1875: Cardinal
On 15th March 1875 Pope Pius IX appointed Mieczysław a Cardinal.  While enthusiastic telegrammes and letters of congratulation poured in, the Berlin Ministry of Justice ordered a search of Mieczysław's jail cell to find incriminating correspondence from the Vatican, but found nothing. 
Fr. Edmund Radziwiłł had rolled up the letter of appointment inside a secret compartment in a walking stick and smuggled it into the cell.  The Gniezno-Poznań diocese delivered a public letter of support signed by 20,000 people.  A much later Mieczysław Ledóchowski (1920-2017) gave this letter to the Poznań museum after the last War (1, p65).


1876: Expelled from Germany
On 3rd February 1876 three officials of the Berlin Ministry of Justice arrived to take Mieczysław to Berlin, where they informed him that he was free, provided he left the country.  So just as his mother was once expelled from the Russian partition, so now he himself was expelled from the Polish partition.  But he had not quite fulfilled his mother's wish of becoming a martyr. 

Mieczysław immediately sent a telegramme to the Pope thanking him for the appointment to Cardinal. He also sent a pastoral letter to the faithful of his diocese thanking them for their support and apologising that he had not been given a chance to say goodbye.
1876: Prague, Kraków, Vienna and Rome
Mieczysław then continued via Prague and his brother's home in Hradish to Kraków.  Everywhere he was greeted by enthusiastic crowds at the railway station.  There were grand receptions in friendly palaces or church institutions and enthusiastic articles in the newspapers.  The Austrian authorities were very concerned that the new outburst of Polish nationalism might be a threat, and under pressure from the German government they insisted that Mieczysław move on within a few days, told him to leave the Austrian partition of Poland and stopped him from going to Lwów.

He carried on to another enthusiastic reception in Vienna, where he visited his parents' grave in the Währing cemetery.  To avoid a diplomatic incident he did not stay in the Papal Nuncio's palace but stayed with the Jesuits instead, and the Nuncio visited him there.  To avoid further embarrassment to Austria he carried on to Rome, where he arrived on 3rd March, a month after his release from prison.
1886: Mieczysław resigns

Mieczysław now officially received his Cardinal's hat.  He continued as Primate of Poland and Archbishop of Gniezno-Poznań, managing  things by correspondence, and receiving numerous pilgrimages from Poland.   In 1877 he refused a summons to the Inowrocław Court in the Prussian Partition, where he faced prosecution for breaking German law by remaining in office.   Germany then asked the Italian Government to extradite him.  When Mieczysław told the Pope he was immediately "interned" in the Vatican for protection from the Italian police.  In the end, Italy refused to extradite him.

In 1878, after the death of Pius IX,  Mieczysław participated in the Vatican Conclave that elected Pope Leo XIII.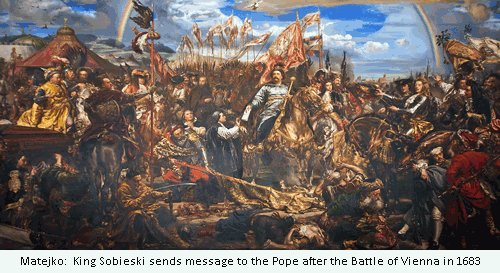 In 1883, on the 200th anniversary of the Relief of Vienna, Mieczysław was one of a group of Poles including Jan Matejko, who donated his painting of Sobieski to the Pope.  It is now in the Vatican Museum.

In the meanwhile the German Government continued pressurising the Pope to dismiss Mieczysław from his post as Archbishop of Gniezno-Poznań and Primate of Poland.  A family friend Józef Mielżyński organised a huge petition calling on the Pope not to dismiss Mieczysław. 
Then on 26th January 1886, after the German Government had at last withdrawn the May Laws, Mieczysław finally resigned.  On 2nd March 1886 he sent a moving pastoral letter saying goodbye to the faithful of his diocese.  Juliusz Dinder was appointed the next Archbishop and Primate of Poland.  He was German but that is another story.


Final Years
During his last years in Rome, Mieczysław received several appointments, including patron of the Pontifical Academy of Ecclesiastical Nobility (now known as the Pontifical Ecclesiastical Academy) in Rome, where he had studied diplomacy himself, and patron of the Knights of Malta.  He received awards and decorations from the Pope, the Catholic Patriarch of Jerusalem, the Prince of Toscany, the Shah of Persia and others.

In January 1892 Pope Leo XIII appointed Mieczysław Prefect of the Congregation for the Propagation of the Faith.   Leo refused to withdraw the appointment despite protests that this post was always held by an Italian.

Mieczysław died on 22nd July 1902, aged 80, and was buried in Rome.  When his family arrived for the funeral, the Pope gave them a private audience and praised him greatly.

Giezno and Poznań
The then Archbishop and Primate of Poland, Florian Stablewski, started a campaign to have Mieczysław's remains moved to Poland in accordance with his wishes.   In the end, the Prussian Government only allowed his heart to be moved and it was put in the Łubieński chapel in Gniezno Cathedral.
However the German authorities were afraid to allow burial in Poznań in case it led to patriotic demonstrations.  So it was only after Polish independence that, on 26th September 1927, after a ceremonial procession through various Polish cities, Mieczysław was finally buried in Poznań Cathedral after a huge Funeral Mass conducted by August Hlond, the then Cardinal and Primate of Poland.
Gniezno and Poznań remember Cardinal Mieczysław until today. 
The la Costa portrait of Mieczysław as Nuncio to New Granada shown above is in the Archbishop's residence in Gniezno.  
In 2015 there was an Exhibition on Mieczysław in Brama Poznania, or Porta Poznania, in the Ostrów Tumski "Cathedral Island" just outside Poznań.  There is more information in the Catalogue (5). 
Rosen's painting
In 2020 an enormous (2.54m X 7.26m) painting by Jan Henryk Rosen was displayed at an exhibition entitled Szablą i krzyżem, or With Sabre and Cross, at the Royal Palace (Castle) in Warsaw.  In the middle of the painting you can see the Wawel Castle in Kraków, with the words underneath: Polonia Sanctorum Mater Scutum Christianitatis, or Poland, Mother of Saints and Shield of Christianity.  The painting was prepared specially to spread knowledge about Poland's victory over the Bolsheviks (Soviet Russia) in 1920, a war which saved Poland.
Prof. Wojceich Fałkowski, director of the Royal Palace, wrote in the catalogue: "The painting... is striking for the people shown... People...who were heroes of various key events in our history... They personify the fate of Poland... Each of them shows great strength of will and readiness to sacrify themself to Providence.  On the left, we see four figures, supported by Cardinal Ledóchowski, the unbreakable defender of the Church and Polish culture under the Prussian partition.  On the other side he is faced by heroes of the fight against the Soviets." (10)  On the right you also see King Jan II Sobieski, who defended church and country against Islam and the Ottomans at Vienna in 1683.
This work was created for the International Exhibition of Catholic Press, which opened in the Vatican on 12th May 1936.  The figures shown were clearly chosen to appeal to the Catholic world, which would remember Sobieski's defence of Christianity at the Battle of Vienna, Cardinal Mieczysław's defence of the Catholic Church against Kulturkampf, and Piłsudski's defeat of the Bolsheviks, at a time when the Catholic church was being persecuted by Communists in several countries (see article on Wladimir Ledóchowski, Superior General of the Jesuits).
The Cardinal understandably considered his youngest brother Antoni (1832-1885) to be his immediate family.  Antoni's children included another Mieczysław (1858-1935), nephew of the Cardinal, who inherited many family papers and souvenirs from the Cardinal.  He married Franciszka Ledóchowska, daughter of another Antoni (1823-1885) the Cardinal's first cousin, and so these papers and souvenirs were passed on through their son, a later Antoni (1895-1972), and in turn to his son, a later Mieczysław (1920-2017), who was therefore the great great nephew of the Cardinal. This article is mostly based on the book by this later Mieczysław Ledóchowski "… aby pozostał nasz ślad" ("...so we may leave a trace") (1).  He is referred to a few times earlier in this article and it was he who supported the republication of Klimkiewicz' book in 1988.
Fr. Witold Klimkiewicz
Mieczysław's book was in turn based on Kardynał Ledóchowski na tle swej epoki (Cardinal Ledóchowski against the background of his times) by Fr. Dr. Witold Klimkiewicz, first published in 1939 (4).   For more detailed information readers are encouraged to study these books and especially Klimkiewicz, which includes extensive documentation.

Fr. Klimkiewicz, a well known theologist and writer, was arrested by the Gestapo on 9th November 1939, shortly after the German invasion, given the number 21958, and held in prisons, Mauthausen-Gusen and finally Dachau concentration camp.  In the end he was exhausted and transported along with "invalids" to be gassed at Hartheim on 12th October 1942.

His book about Cardinal Ledóchowski, who had become famous fighting German oppression, and who had been buried for this in Poznań Cathedral only 12 years earlier, was published only a few months before the German invastion and Klimkiewicz' arrest, and was itself a sensation.  So I think we can assume that this book (as well as Klimkiewicz' other activities) was in the Gestapo's minds when they arrested him and when he was finally sent to the gas chamber.  Although Cardinal Mieczysław Ledóchowski never actually died a martyr, despite his mother's hopefully lighthearted wishes, there can be no doubt that his biographer did die a martyr.



Jan Ledóchowski, 2019
Notes:
(1) "… aby pozostał nasz ślad" (...so we may leave a trace).  Mieczysław Ledóchowski.  Published by Towarzystwo Przyjaciół Ossolineum, Wrocław 2002.  ISBN 83-7095-051-5, pp. 46-79.
(2) See Wikipedia on the holy Prince Mieczysław.
(3) Jan od Kryża is the Polish name for John of the Cross (1542-1591).  He was a Spanish mystic and saint, a major figure of the Counter-Reformation, and a writer who was tortured for his faith and died at the relatively early age of 49.
(4) Kardynał Ledóchowski na tle swej epoki (Cardinal Ledóchowski against the background of his times).  Fr. Dr. Witold Klimkiewicz.  First published in 1939.  Reprinted by Księgarnia Świętego Wojciecha, Poznań in 1988 thanks to the support of Cardinal of Poland Jóżef Glemp and the efforts of the latest Mieczysław Ledóchowski (1). Klimkiewicz died a martyr's death in Dachau concentration camp on 12th October 1942.
(5) Catalogue of the exhibition "Kardynał NieZnany" (The unKnown Cardinal), Brama Poznania, Poznań, 2015.  Katalog wystawy pt "Kardynał Nieznany", Brama Poznania, 2015 r.   Wydawca Centrum Turystyki Kulturowej TRAKT.  ISBN 978-83-62415-13-7.
(6) Catalogue of the Warsaw Historical Museum Exhibition on the Ledóchowski Family in November 2008. Ed. Barbara Hensel-Moszczyńska.  Wydawnictwo Duszpasterstwa Rolników, Włocławek. ISBN 978-83-88477-83-6.
(7) Wikipedia.
(8) Parish of St. Joseph, Parafia p.w. św. Józefa, Klimontów www.parafiaklimontow.ns48.pl
(9) Pamiętnik Szlachetnego Ledóchowskiego Domu (Memoir of the Noble House of Ledóchowski). Fr Sadok Barącz. Published by "Gaz. naród" J. Dobrzańskiego i K.Gromana, Lwów 1879.
(10) 1920: Szablą i krzyżem.  1920: By Sabre and Sword.  Exhibition of Jan Henryk Rosen's painting on the centenary of the Miracle on the Vistula, 23rd July - 15th November 2020.  Zamek Królewski w Warszawie - Muzeum.  Warsaw Royal Castle Museum.  ISBN 978-83-7022-276-5, p11.
(11) Family tradition.
(12) Photo taken in 2021 with the kind permission of the current owner Mr Andrzej Widuch.