Maria Rozalia née Zakrzewska 1799 - 1863
Józef Ledóchowski 1786 - 1859
Juliusz Ledóchowski 1820 - 1855


Maria Rozalia née Zakrzewska, wife of Józef Ledóchowski, defended the Catholic church in the Russian partition, was arrested by the security police and expelled.  She was a great inspiration for her son, the future Primate of Poland, Cardinal Mieczysław Ledóchowski.  Juliusz, her eldest son, was the last Ledóchowski to own Górki.
*****
Józef Ledóchowski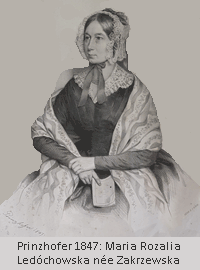 Józef, the eldest son of Antoni Ledóchowski and Julia z Rawitów Ostrowska, was born on 10th March 1786 about 30 kilometres North East of Lwów, in Pieczychwosty, where the family had a property, and was later made a Chamberlain of the Polish Court (i.e. "Kongresówka", with the Tsar has King).  
He married Maria Rozalia Zakrzewska in 1818 and had five children, on whom further details below, including Mieczysław, the future Cardinal and Primate of Poland. 
When his father Antoni divided his properties among his children on 24th February 1818 (5, p16) Józef received Górki and Klimontów. 
Józef found life in the Russian partition after the failed November 1830 Uprising rather depressing.  In his fifties his health began to fail and in 1843 he in turn divided his properties up among his children and he and his wife moved to Vienna.  They took with them 11 year old Antoni, their fifth and last child, which may explain why Antoni and his descendants then lived in Austria, while his elder siblings stayed in Poland.  Józef's younger brothers Tadeusz and Tymoteusz (also sons of Antoni), were already living in Austria.  According to Klimkiewicz (5, pp19-20) Józef was very happy to join them there.  He died a month after his elder son Juliusz, on 24th November 1859, aged 74, in the arms of his wife Maria Rozalia, and was buried in the Währing cemetery in Vienna.
Maria Rozalia Ledóchowska, née Zakrzewska
Cardinal Mieczysław's achievements owed so much to his mother that the saying  "The hand that rocks the cradle rules the world" inspired by William Wallace could have been about her. 
Maria Rozalia Zakrzewska (Jastrzębiec coat of arms) was born 4th September 1799 in Tetyjów, near Kiev.  Her future husband Józef Ledóchowski is likely to have visited Tetyjów as his father Antoni had inherited a property there from his mother Ludwika Denhoff.  Maria Rozalia's father Jan Niepomucen Zakrzewski was the senior noble of the Taraszcza district, not far away, and her mother was Helena née Darowska. 
She married Józef at the age of 19, on 31st May 1818, in Krupa (1), where Józef's father Antoni and siblings were born.  Although Antoni sold his Krupa properties after the last partition in 1795, it seems there was still a connection.
Maria Rozalia had a live intellect, was cultured and highly educated, had a good knowledge of French, Russian, Italian, English, German and even Spanish.  She gave birth to three children in the first three years of her marriage and a fourth three years later.  She spent the autumn of 1828, between the births of her fourth and fifth children, in Paris and may have visited Rome then (5, p27).  She must nevertheless have given her children a lot of time.  They absorbed her strong patriotic spirit and firm Catholic faith, and received the best possible education, including several foreign languages, by home tutoring, a local school in Klimontów and finally at a boarding school in Warsaw.  They were devoted to her.
After the November 1830 Uprising, while travelling between the Ledóchowski properties and visiting her family in the Eastern parts of former Poland-Lithuania, Maria Rozalia came across Russian oppression of the Uniate church first hand.  Although the Ledóchowski family was by now Roman Catholic (we don't know how many generations earlier they converted from Orthodoxy) they identified strongly with the Uniates, their fellow Catholics, and were appalled. 

Russian oppression of the Greek Catholic Church
After the Roman Empire was divided into East and West, the Christian Church also divided into two major parts: "Latin" or "Roman" under the Pope of Rome in the West; and "Greek" or "Orthodox" under the Patriarch of Constantinople, the capital of the Byzantine Empire, in the East.  The division was formalised in 1054 AD, when Pope Leo IX and Patriarch Ceralius excommunicated each other.  In 988 AD the Principality of Ruś or Ruthenia under Prince Wladimir the Great of Kiev, encouraged by Halka, the legendary ancestor of the Ledóchowskis, had converted to the Eastern version of Christianity, and later used the Old Church Slavonian language (similar but not identical to the Ruski or Ruthenian language) for its liturgy.  The Eastern Orthodox religion was later adopted by the Principality of Moscow and then the Russian Empire and was known as the "Greco-Russian" or simply "Russian" Orthodox Church.  
Today there are 15 Autocephalous (self-governing) Orthodox Churches, including the Ecumenical Patriarchate of Constantinople (Istanbul), the Junior Patriarchate of the Russian Orthodox Church and the Archbishopric of the Polish Orthodox Church.
The Polish Orthodox Church considers itself independent of the Russian Orthodox Church and acknowledges the seniority of the Patriarch of Constantinople.  In the "Orthodox Church schism of 2018", on 11th October 2018, the Constantinople Patriarchate ruled that allegiance by the Ukrainian Orthodox Church to Moscow was contrary to canon law and on 15th October the Russian Orthodox Curch unilaterally severed full comunion with Constantinople.  On 7th December, the Warsaw newspaper Gazeta Wyborcza reported that the Polish Orthodox Church sided with Russia in this dispute.
In 1596 the Roman Catholic Church in the Polish-Lithuanian Republic signed the Union of Brześć establishing the "Greek Catholic" or "Uniate" Church.  This was loyal to the Pope in Rome, but used Orthodox ceremonies and Old Slavonian liturgy to attract Orthodox Christians to convert to it, often rather brutally.  Despite rebellions by the Ruthenians or Rusini against Poland-Lithuania this conversion campaign was largely successful, so that there were eventually three different Christian religions in the Eastern territories of the Polish-Lithuanian Republic: Roman Catholics, Greek Catholics or Uniates, and Greco-Russian Orthodox.  My father remembered from his childhood that nearly all villages in Eastern Poland had three churches, one for each of these religions, plus of course a synagogue.  He made a special effort to show me that there was even a Greek Catholic church in Johannesburg, South Africa.  Today all three Christian religions have churches in Lwów.  
The Greek Catholic Church has around 5 million members and its Patriarch is Archbishop Swiatosław Szewczuk of Kiev.  In Poland it has the ArchDiocese of Przemyśl-Warsaw and the Diocese of Wrocław-Gdańsk.  Its leading religious orders are the "Ojcowie Bazylianie" (Bazylian Fathers) and the "Siostry Bazylianki" (Bazylian Sisters) of the Greek Catholic Order of St Basil the Great, with their headquarters in Rome.
After the final partition of Poland in 1795 the Russian Empire started taking its revenge by oppressing the Greek Catholic church and persuading its faithful to convert back to the Orthodox church.  This increased significantly after the failure of the Polish November 1830 Uprising.  From 1831 special new mass books were printed with pictures of Orthodox Saints.  In 1835 the Tsar established a secret committee to persuade the Uniate clergy to switch to Orthodox.  Uniate schools were ordered to give Orthodox teaching.  Three bishops then openly switched to Orthodox.  Fearful of a new edict threatening reluctant priests with exile into the depths of Russia, 13,000 priests declared their willingness to switch to Orthodoxy.  In 1839 a meeting of leaders of the split asked the Tsar to allow them "to return to the church of their ancestors" and a Synod of the Orthodox Church agreed to accept the Uniates into "a completely united, holy, Orthodox, Eastern Catholic Church".  Clergy who did not sign were threatened with hunger and exile, and in the end most gave up the struggle.  However the Bazylian Sisters held on and were subjected to starvation, chains, flogging and/or plunging under water.  Other laws forbade Roman Catholic priests to give communion to Uniates or accept them in mixed marriages.  A further law in 1840 even banned use of the name "Greco-Uniate Church" (5, pp 30-41).

Maria Rozalia in Rome
In autumn 1843, the year her husband Józef retired and moved to Vienna, Maria Rozalia took her 21 year old son Mieczysław to the Pontifical Academy of Ecclesiastical Nobility (now known as the Pontifical Ecclesiastical Academy) in Rome to continue his studies to become a priest.  There she met with several senior Cardinals including, on many occasions, Cardinal Lambruschini, Vatican Secretary of State (equivalent to Foreign Minister), as well as three audiences with Pope Gregory XVI, whom she briefed in detail about Russian repression of the Uniates.  They were very interested and asked her for more information.  Earlier, in 1832, Gregory XVI had been misled by the Russian ambassador and had condemned Polish plots and uprisings against Russia (including the November Uprising) and had demanded obedience and loyalty to the Tsar.

Maria Rozalia's report to the Vatican
So on her subsequent travels to Warsaw, Krupa, Podole, probably Tetyjów and other areas in the Russian partition in 1844 and early 1845, Maria Rozalia collected more information.  She met Father Wiktor Ożarowski, a priest leading the defence of the Uniates in Łuck.  In Kiev she met three elderly Uniate priests who had just been released from exile in Siberia. 
She came across bishops, convents and monasteries being divided up, being confiscated by the state or being forced to use rites imposed by the Tsar.

Maria Rozalia then prepared a detailed report on the repression attaching extensive documentary evidence, saying she hoped it would be taken seriously even though she was a woman. 
The report  was sent secretly (no record was kept of how it was sent) to her son Mieczysław in Rome, who gave it to Vatican Secretary of State Cardinal Lambruschini on 2nd May 1845.

Arrested by the Russian security police
Maria Rozalia then applied for permission to leave Russia to go to the ordination of her son Mieczysław as priest in Rome in July 1845.  This provoked a night time visit by the police to her flat in Warsaw, where they found a copy of her report to the Vatican, documents collected by Fr Ożarowski, and correspondence with her relatives abroad and Princess Odescalchi in Naples.  Fr. Ożarowski was immediately imprisoned and a report sent to the Tsar.

The Tsar was reluctant to impose too strong a sentence on Maria Rozalia as she was a woman and her husband Jóżef was Chamberlain of the Court, but in early June, after the documents had been studied in greater detail, she was arrested and sentenced to internment in the Convent of the Sisters of the Virgin Mary in Warsaw for the year to 1st July 1846.   Her husband's brother Austrian Field Marshal Tadeusz Ledóchowski came to Warsaw in October to plead for her, but the Governor Prince Paskiewicz-Eriwański argued vigorously that she was guilty of spying.  In the end he gave way and consented to her living normally at the Convent provided she continued to stay there for the rest of her sentence. 


The Russian Tsar visits the Pope
While Maria Rozalia was still interned in Warsaw, Tsar Nicholas I arrived on a state visit to Rome and met the Pope in the Vatican on 13th December 1845.  The Pope produced Maria Rozalia's report and documents she had provided as evidence of the maltreatment of Catholics in the Russian Empire, and protested strongly.  The Tsar later met with Vatican Secretary of State Cardinal Lambruschini and blamed Catholic clerics for spreading lies about the Russian Empire, especially Fr Ożarowski, who had been arrested.  Lambruschini defended Ożarowski, saying he had never received any information from him (we now know the documents had been sent to the Vatican by Maria Rozalia), and that to the extent that Ożarowski was reporting the truth, he was rendering a service, and his arrest proved that the Catholic church was being oppressed (5, pp42-3).  
The Pope now publicly announced that he was very concerned about the state of the Catholic Church in the Russian partition.
The next year, on 1st July 1846, Maria Rozalia was released, but she was ordered to leave Russia for ever, which meant she would no longer be able to pass on information on Russia's treatment of Catholics nor ever again see her children still living in the Russian partition (5, pp45-6).


Maria Rozalia's later life
Maria Rozalia then returned to her life as mother to her youngest son Antoni, by then 13 years old, and wife to her husband Józef, whom she looked after as his health was failing.  After her eldest son Juliusz and her husband Józef died in 1859, she distributed her wealth among her children, took a vow of poverty and as Sister Elżbieta (Elizabeth) entered the convent of the Bernardine sisters in Kraków, in the Austrian partition, on 12th January 1860.  This was now a bit of a tradition in the Ledóchowski family: her husband Józef's brother General Ignacy retired to the Dominican monastery in Klimontów four years earlier, in 1855, and her husband's father Count Antoni had retired to a monastery in Sandomierz in 1818.  However Maria Rozalia fell ill and obtained approval from the Vatican to return to Vienna in November 1861.
In early 1862 Maria Rozalia travelled to Belgium to stay with her son Mieczysław, who by now was Papal Nuncio in Brussels.  Then using a Vatican passport organised by Mieczysław she went to Paris, where she took humble rooms by the Carmelite Convent.  Her health continued to deteriorate.  Mieczysław came several times to visit her, but in her last letters to him she said not to visit her too often as his duty was to stay at his post in Brussels.   She received a special blessing from Pope Pius IX and died on 30th March 1863 aged 64.
Maria Rozalia was initially buried in the Montmartre cemetery in Paris, where Jan Ledóchowski was buried a year later.  When Mieczysław was appointed Archbishop of Gniezno-Poznan and Primate of Poland, he arranged for his mother Maria Rozalia to be moved and she was buried in the Währing cemetery in Vienna next to her husband Józef on 22nd December 1865.
In later life Mieczysław used to joke that his mother was fond of repeating "I wish with all my heart that you will die a missionary and a martyr" (1), (5, p46).

Józef and Maria Rozalia Ledóchowski had five children:
1.  Juliusz or Julian (1820-1859) is discussed further below.

2.  Helena (1821-1896) married Count Atanazy Miączyński.  After the January 1863 Uprising his properties in Wołyń were confiscated and he was sentenced to exile.

3.  The future Cardinal Mieczysław Jan od Krzyża (4) (1822 – 1902), whose story is told in a separate article.

4.  Jan Józef (1825-1894) married Melania Kossowicz in 1850.  They had two daughters, Maria (1851-1873), who married Paweł Petersen, and Bronisława.  Their first son, Mieczysław (1852-?), had no children and adopted
Aleksander (1880 - ?), from another line of Ledóchowskis (2, p80).  Their second son Jan Nepomucen (1856-1918) had a son who died young, another son who was shot by the Germans during the Warsaw Rising in 1944, and a daughter.  Mieczysław Ledóchowski gives more details (2, p80).


5.  Antoni Franciszek (1832-1885), Chamberlain of the Austrian Imperial Court, had a short career in the Austrian Hussars and was awarded the Papal Order of Pius IX.  By the time he died at the relatively early age of 53 he had sixteen children, described in more detail by Mieczysław Ledóchowski (2, pp 80-91 and 132-153).  The thirteen children by his second wife Baroness Izabella Zessner von Spitzenberg included Mieczysław (1858-1935), who married Franciszka Ledóchowska and was the father of Antoni "the father of Polish navigation" (1895-1972);  Zygmunt, the Prelat of Olomouc in the Czech Republic, who wrote a book about the Ledóchowski family in German (3); Wladimir, Adjutant of the last Austrian Emperor Charles I, who accompanied the last Emperor into exile; Captain Józef Franciszek or Joseph Franz, who was involved in a major scandal and unjustly punished;  Zofia, whose daughter Izabella was imprisoned for opposing Nazism in Austria, and whose son Max escaped to France but died in the Vichy concentration camp Noé; and Franciszek or "Franz" (1876-1954), from whom most of today's "Austrian" branch are descended.  There is more information on them in the Galicia section of the family history article under the heading Ledóchowskis in Austria.

Juliusz or Julian Ledóchowski
Juliusz or Julian (11) Ledóchowski, the eldest son of Józef Ledóchowski and Maria Rozalia née Zakrzewska, and so eldest brother of Cardinal Mieczysław, was born on 13th February 1820, most probably in Górki.  He was a lieutenant in the first division of Prince Coburg's ulans, but returned to Klimontów to take over the family properties from his father who retired to Vienna in 1843.  He married Karolina Hulewicz and lived in Górki.  He spent winters in Warsaw where he was an adviser to the Landowners Credit Association.  He was awarded the Papal order of St. Gregory the Great.  He wrote a brochure entitled "Acquisition by purchase.  The advantages of this way out of serfdom".  (Uwłaszczenie przez wykup.  Korzyści tego tryby wyjścia ze stanu pańszczyźnianego.) 
Land reform and how to distribute land to serf-peasants was a major topic of the age and remained so ever after.
The late Mieczysław Ledóchowski (2, p46) heard from family discussions that it was Juliusz who invested a lot of money in rebuilding and renovating the Górki palace, that he fell into debt and the family was forced to sell – so he was the last Ledóchowski owner of Górki, which had come into the family with his great grandmother Ludwika Denhoff a century earlier, in 1745. 
The family does not seem to have been very happy with Juliusz as Barącz writes very little about  him (10).  He died in Dresden on 31st October 1859 at the early age of 39, a month before his father Józef died in Vienna. 
His widow Karolina née Hulewicz carried on managing the estate and abolished serfdom three years before obliged to do so by law.  I am not sure when exactly she left Górki, which served as a hospital for troops wounded at the battle of Rybnica on 20th October 1863 during the January Uprising.
She died in 1881.  
Juliusz (or Julian) Ledóchowski and his wife Karolina née Hulewicz had no children.
Jan Ledóchowski, 2018
Notes:
(1) Krupa shown on map of Volhynia (Wołyń).  Rizzi Zanomi. Published by Presso Antonio Zatta in Venice in 1781. Horyńgród and Klimontów shown on map of Kresy.  Published by PTR Kartografia in Warsaw in 2014, ISBN 978-83-60641-75-0.
(2) "… aby pozostał nasz ślad" (...so we may leave a trace). Mieczysław Ledóchowski.  Published by Towarzystwo Przyjaciół Ossolineum, Wrocław 2002. ISBN 83-7095-051-5, pp. 33-37.
(3) Das Buch von meiner Lebensfahrt (The Book of my Life's Journey).  Prelate Sigismund Halka Ledochowski.  Vlast Prag -an der Jahreswende 1934-1935.
(4) Jan od Kryża is the Polish name for John of the Cross (1542-1591).  He was a Spanish mystic and saint, a major figure of the Counter-Reformation, and a writer who was tortured for his faith and died at the relatively early age of 49.  It is interesting that Mieczysław had such a significant religious second name and it could have been his mother's suggestion, and why she said she wished he would die a missionary and a martyr.
(5) Kardynał Ledóchowski na tle swej epoki (Cardinal Ledóchowski against the background of his times.)  Fr. Dr. Witold Klimkiewicz.  First published in 1939. Reprinted by Księgarnia Świętego Wojciecha, Poznań in 1988 thanks to the support of Cardinal of Poland Jóżef Glemp and the efforts of the latest Mieczysław Ledóchowski (2).  Klimkiewicz died a martyr's death in Dachau concentration camp on 12th October 1942.
(6) Catalogue of the Warsaw Historical Museum Exhibition on the Ledóchowski Family in November 2008. Ed. Barbara Hensel-Moszczyńska. Wydawnictwo Duszpasterstwa Rolników, Włocławek. ISBN 978-83-88477-83-6.
(7) St. Mary Magdalene's, the Metropolitan Cathedral of the Polish Orthodox Church, is at Aleja Solidarności 52, on the East (Praga) side of the Vistula. It was built in 1869 to cater for the needs of Russians in Warsaw during the Russian partition. It was only one of two Orthodox churches in Warsaw during the period 1920 - 1939. Photos from Wikipedia.
(8) St. John the Baptist's ArchCathedral in Przemyśl. Built by the Jesuits in 1626-32, it was used as a garrison after the Jesuits were banned during the partitions, and was transferred to the Greek Catholic Church in 1957. The Seminary was opened for the second time in 1845, as Przemyśl was not in the Russian partition but in the Austrian partition, which allowed the Greek Catholic Church to continue. However the Greek Catholics were oppressed by the Communists and this seminary was closed in 1945.
(9) Tsar Nicholas I of Russia, painted by George Dawe, 1828.  Pope Gregory XVI, painted by Francesco Podesti.  Wikipedia.
(10) Pamiętnik Szlachetnego Ledóchowskiego Domu (Memoir of the Noble House of Ledóchowski). Fr Sadok Barącz. Published by "Gaz. naród" J. Dobrzańskiego i K.Gromana, Lwów 1879, p148.
(11) W dobrach Ossolińskich - Klimontów i Okolice.  On the Ossoliński Estates.  Eugeniusz Niebielski.  Wydawca Urząd Gminy w Klimontowie 1999 r.   Published by the Klimontów Town Council, 1999.  ISBN 83-911600-0-9.  p.34.