Maria Barbara Ledóchowska 1921 - 2007
née Dzierżykraj-Morawska ("Basia")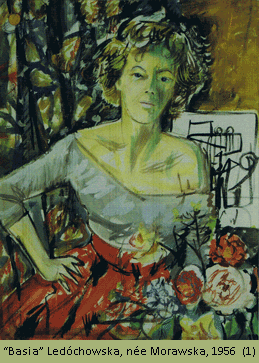 Basia was born on 30th June 1921, daughter of Kajetan Dzierzykraj-Morawski and Maria née Turno and brought up in the family home of Jurkowo, near Poznań.  She had an elder brother, Jerome ("Romi"), a younger sister Magdalena ("Magda") and a younger brother Maciej.  When she was 18 and had just finished matric, the Germans and Russians invaded Poland.  From 1936 her father was Deputy Minister of Treasury, and so on the outbreak of war was evacuated to Romania and then France, where he joined the Foreign Ministry of the Government-in-Exile.  Kajetan was desperate to get his family out of Poland and arranged with friends in Italy to get them all Italian passports.  Romi and Basia, two of the four children, then travelled through Italy to join their father in France.  When Germany invaded France they moved with the Polish Government to London.  There Kajetan was Ambassador to the Czech Government-in-Exile and then Secretary General of the Foreign Ministry.  
In October 1943 Kajetan was appointed Ambassador and first head of mission to the French National Liberation Committee in Algeria, a sort of French Government-in-Exile, for which De Gaulle was forever grateful, especially to Kajetan.  Basia studied Economics at the LSE, which was moved to Cambridge to escape the bombing of London.  There she was very grateful for the hospitality of the Walston family.
After Paris was liberated in August 1944, the Polish Embassy in the splendid Talleyrand Palace was re-opened and Basia accompanied her father to Paris.  There she met Wladimir Ledóchowski, Secretary to the Embassy, who had been transferred from Ankara.  Wladimir proudly told us years later (to Basia's great embarrassment) that he first kissed her on the front steps.  When the Allies recognised the Communist government in Poland in July 1945, they all had to leave.
Magda: In the meanwhile, back in 1939, Kajetan's wife Maria had insisted on staying on in Poland with the other two children, Magda and Maciej, who was only 10.  Magda was 17 and completed her matric in a school where teaching and exams were in secret as the Germans had banned all senior education.  All three joined the Polish Resistance.
Magda spoke excellent French and German and was given forged German papers as a "French volksdeutsche" with which she travelled to Berlin and Hamburg on courier and spy missions.  She got a job with the Swiss pharmaceutical company Hoffmann La Roche in Warsaw and provided intelligence on its stores, enabling the Resistance to break in for medical supplies.  She was a talented poet and writer with the underground publication Sztuka i Naród (Art and Nation).  She was a liaison courier for the Resistance HQ and then for the "Radosław" battalion, which defended the Western side of Warsaw at the beginning of the Warsaw Rising.  On 6th August 1944 she was badly wounded by a shell in the stomach at the Okopowa street barricade and died a few hours later in hospital.  She is buried with full honours in the Powązki Military Cemetery in Warsaw.
After Communist rule was recognised in Poland after the War, Basia's mother Maria and her brother Maciej left to join Kajetan in Paris.  Kajetan refused to work for the Communists, and stayed in Paris as Ambassador for the Polish Government-in-Exile in London.  He became the highly respected doyen of the Polish community in France.  Maciej worked in Radio Free Europe for many years, fighting for the fall of the communist regime.
Basia and Wladimir were married in Paris in 1948 and emigrated to South Africa, where Wladimir worked as an engineer. They lived for a while in Rhodesia and bought a tea plantation in Kivu province, Congo.  Their life in Africa is more fully described in the page on Wladimir Ledóchowski.  They became very active in social affairs and Basia was involved in setting up the Catholic Association for Racial Equality and various organisations dedicated to educating and improving the lives of black domestic servants.  One of these was USWE, and a Tribute to her in its 1993 report is set out below.
She taught me to love the sea, either in Mozambique or with our great friends the Rozwadowskis, on the farm Franek Rozwadowski managed near Somerset West in the Cape.
Basia stayed on in her beloved South Africa when Wladimir returned to Poland in 1984, where he died in 1987.
She moved to the Cape.  In later life she sadly developed Alzheimers and moved to Tabita, a care home in Piaseczno outside Warsaw, in 2004.  She died there in 2007 in the tender care of her cousins, Teresa Jakubowska ("Renia") and Elżbieta Morawska Reiff.  She was buried in the same grave as Wladimir in the lovely forested village of Podkowa Leśna.
Jan Ledóchowski, 2012
Note:
(1) Portrait by Teresa Tyszkiewicz née Ledóchowska, sister of Basia's husband Wladimir Ledóchowska, painted in Salisbury, Rhodesia (now Harare, Zimbabwe) in 1956,
.