General Ignacy Hilary Ledóchowski 1789 - 1870
Commander of the Arsenal, Defender of Modlin
Ignacy Ledóchowski lost a leg fighting for Napoleon's invasion of Russia in 1812, commanded the Arsenal in Warsaw, where he founded Poland's first military museum, and was promoted to General in 1831, while leading Poland's last stand at the Fortress of Modlin in the doomed November Uprising against Russia.  He was taken prisoner three times fighting for three different armies.
********
General Ignacy Hilary Halka Ledóchowski, second son of Antoni Ledóchowski (1755-1835) and Julia née z Rawitów Ostrowska, was born on 13th January 1789 in the Wołyń or Volhynia province in the central part of the Polish Commonwealth, at Krupa (1), now named Horyńgród and well inside today's Ukraine.  
There were six children in the family, born in this order: Józef (father of the future Cardinal of Poland), Apolonia, Ignacy, Tadeusz, Izabella and Tymoteusz.
The coloured lithograph of General Ignacy dates from 1834 and was made by the workshop of François de Villain using a drawing by Llant of 1832. The book of Polish Heraldry by Boniecki says Ignacy was awarded the highest Polish decoration, the Virtuti Militari (medal with four black rays) and this can be seen together with the Legion d'Honneur (medal with five white rays).



Turbulent Times
These were turbulent times.  The American Revolution had led to the War of Independence against Great Britain, and the Constitution of the new United States came into force in 1789, the year of Ignacy's birth.  That same year saw the storming of the Bastille and the outbreak of the French Revolution, leading to the Reign of Terror and the public beheading by guillotine of 40,000 people, including King Louis XVI and Queen Marie Antoinette in 1793.
Poland, geographically large but politically divided and prevented by Russia and a small budget from having a strong army, was also being stirred by patriotic and democratic fervour.  On 3rd May 1791 a new liberal constitution was adopted with overwhelming popular support.  However Empress Catherine the Great of Russia feared the spread of the French Revolution and saw this constitution as a threat to her domination of Poland.   Encouraged by a group of Polish magnates ("Targowica") who wanted to preserve their privileges, Russia invaded Poland.  While the army resisted fairly effectively, there was no support from Poland's erstwhile ally Prussia, and Stanisław August Poniatowski, King of Poland, who was privately heavily indebted to Empress Catherine, was accused of a very weak response.  He eventually joined the Targowica himself and capitulated.  Russia insisted on a further significant reduction in the size of the Polish Army and imposed a Second Partition of Poland in 1793.   Disaffected Polish officers led by Tadeusz Kościuszko, a hero of the American Revolutionary War, organised an Uprising against the Russians, but they were badly outnumbered and after the victory of Racławice they were defeated in subsequent battles.



1795: In the Austrian Partition

So when Ignacy was six years old, in 1795, Poland was subjected to the Third Partition between Russia, Prussia and Austria, and disappeared completely from the map (click to enlarge, 4).  During this period Ignacy's father Antoni had actively promoted the Polish cause in the Sejm (parliament) and had made substantial donations to the army, funding an officer, four junior officers and six soldiers.  He received a personal letter of thanks from Kościuszko.  Rejecting occupation conditions in the Russian partition, Antoni sold Krupa and his other properties there and the family moved to their properties in the Austrian partition.  Krupa was renamed Horyńgród around this time, presumably after the Horyń river.
The Austrian partition was named the Kingdom of Galicia and Lodomeria, or simply Galicia, a province of the Austrian Empire.   The Northern part was called West Galicia and included the remaining Ledóchowski family properties at Górki, Klimontów and Ossolin, near Sandomierz (1).  The photo shows the Górki country house recently renovated by its current owners.
Ignacy's father Antoni was elected by the Western Galician landowners to represent them at a meeting with the Holy Roman Emperor of Austria, Francis II, in 1797.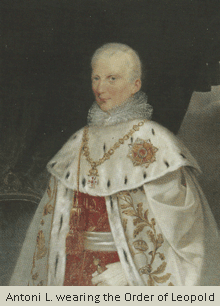 Although he insisted on wearing Polish not Austrian costume, Antoni appears to have made a good impression on the Austrians.  
In 1800 Antoni was granted the title of Count and is shown here wearing the costume of a Knight of the Great Star of the Order of Leopold.  As titles had been very rare among the Polish landowner class, who considered themselves all equal noblemen or "szlachta", the more prominent ones obtained titles from their partitioning power to put them on a par with that power's titled nobility of equivalent status.



1809: Napoleon's Prisoner
The young Ignacy was sent to the Theresianum boarding school and then the Engineering Academy in Vienna in preparation for a military career.  There he came to the notice of Field Marshal Archduke Charles, who appointed him officer cadet with the Third Infantry Regiment at the age of 19.
In the meanwhile the French Revolution had given way to the rule of Napoléon Bonaparte, who crowned himself Emperor Napoleon I of France in 1804 and ended up at war with the UK, Prussia and Austria.  In 1807, after defeating Prussia and Russia, Napoleon used part of their Polish territories to create the Duchy of Warsaw, which was allied to Napoleon in the hope that in due course he would recreate an independent Poland.
Napoleon later attacked Austria.  On 23rd April 1809, despite being lightly wounded in the left foot, he defeated Archduke Charles at the Battle of Ratisbon, known today as Regensburg in Bavaria, Southern Germany.  After a day long battle the French captured the city at 9pm (painting by Charles Thévenin, 4).  One of the last group of 300 defenders to surrender was Ignacy.  A fluent French speaker, Ignacy was hauled up before Napoleon, who asked how a Pole like he dared fight Napoleon, who supported Poland.  The 20 year old Ignacy is reported to have loudly replied "A soldier should stick to his colours!"   According to Dezydery Chłapowski, Napoleon knocked Ignacy's splendid tall golden helmet off - but by accident when whipping his horse to ride away (17).  
Napoleon was nevertheless impressed and Ignacy was well treated as a prisoner.  He kept being persuaded to change sides, but refused.
Austria was defeated again at the decisive Battle of Wagram near Vienna on 5-6th July.  Archduke Charles sought an armistice on 12th July and the Treaty of Schönbrunn between France and Austria was signed on 14th October 1809.  This was harsh, and imposed the loss of territories containing a sixth of the Austrian Empire's population.   Prisoners were exchanged and Ignacy returned to Austria, where he was transferred to the Fourth Regiment of Hussars under Prince Hesse-Homburg (later Landgrave of Hesse-Homburg).



1810: Fighting for Napoleon
Under the Treaty of Schönbrunn, West Galicia, including the Ledóchowski properties around Sandomierz, was transferred to the Duchy of Warsaw (click for map, 4).  So in 1810 Ignacy resigned his Austrian commission, moved to the Duchy of Warsaw and joined the recently recreated Polish Army.  We are fortunate to have in our archives two original documents signed by General Prince Józef Poniatowski, Commander-in-Chief of the new Polish Army and the Duchy's Minister of War.  The first, on the left, dated 19th October 1811, is addressed to Ignacy, Lieutenant Adjutant of a Major in the Horse Artillery Regiment, where he served under his mother's brother Władysław Ostrowski (future speaker of the Sejm), and instructs him to report for duty to Colonel Mallet, Director of Engineers.   The second document, on the right, dated 20th January, 1812, promotes Ignacy to Captain in the Battalion of Sappers. (Click to enlarge.)
Ignacy was then sent to Gdańsk, where his unit served with the Horse Artillery in the 10th Corps.  He was 23.
On 24th June 1812 Napoleon's Grande Armée began its epic invasion of Russia in an attempt to compel Tsar Aleksander I to stop trading with the UK.
Russia called it the Patriotic War of 1812, inspiring Tchaikovsky's grand 1812 Overture.  After they lost, the French called it the Russian Campaign.  But at the time Napoleon called it the Second Polish War to help get support from Poles fighting for independence.  Napoleon's main force struck East and after a Pyrrhic victory at the great Battle of Borodino entered Moscow.  However Tsar Alexander did not sue for peace and Russian scorched earth tactics left the French increasingly short of supplies.
The Grande Armée was forced to retreat, and became smaller and smaller as it suffered from "General Winter".  By December, after less than six months, its remnants had left Russian territory, and Marshal Ney was defending the Duchy's border at Kovno (Kowno in Polish, and today Kaunas, the second largest city in Lithuania).  
The French were particularly afraid of Generals "January" and "February", who were due to attack next.
1813: Wounded at the Battle of Labiau
In the meanwhile Ignacy's Horse Artillery unit in the 10th Corps under Marshal MacDonald (born in France of a Scottish father) was part of the Grande Armée's left wing which pushed North towards Riga, and then had to retreat after being betrayed by the Prussian General Jork.  
Click here (4) for larger scale map showing general location of the area and four cities: Gdańsk, Königsberg, Labiau, and Kovno.

On 3rd January 1813, during a rearguard action by the Poles towards the East Prussian city of Königsberg (Królewiec in Polish, and Kaliningrad today), a cannon ball smashed Ignacy's right knee at the Battle of Labiau (Labiawa in Polish, and Polessk today) about 180km or 100 miles from Kovno/Kaunas, where Ney had fought.   Ignacy was put on a sleigh and in freezing winter conditions was hauled about 50km or 30 miles to hospital in Königsberg/Kaliningrad.  Nearly two weeks later, on 16th January, shortly after his 24th birthday, his leg was amputated.  He spent the rest of his life on crutches and when the Russians arrived he was taken prisoner of war for the second time in his life.
After Ignacy was released he was awarded the highest French decoration, the Légion d'Honneur, for his "rare" bravery, by Napoleon in person, it is believed, at the defence of Dantzig / Gdańsk in June 1813.  This prestigious decoration can be seen on this medallion by L. Goll (5) and other later portraits and prints.



1815: The Kingdom of Poland ("Kongresówka")
The loss of the Grande Armée, the loss of irreplaceable cavalry horses, and above all the loss of Napoleon's prestige, turned the tide.  Practically every major power in Europe united against him. Prussia saved the British at Waterloo, France was defeated and the Napoleonic Wars were over. 
In 1815 Poland was yet again partitioned, with the victorious neighbours taking most of the country including all the major cities like Kraków, Lwów, Poznań and Wilno.  The only exception was Warsaw, which was left in a small rump state in the middle, about 13% the total area of pre-partition Poland, even smaller than the Duchy of Warsaw had been, but keeping the strange little handle going up to Kowno/Kaunas (4). 
This was known as the Kingdom of Poland or Congress Poland ("Kongresówka), created by the Congress of Vienna.  However it was effectively a puppet state of the Russian Empire, with the Tsar as King.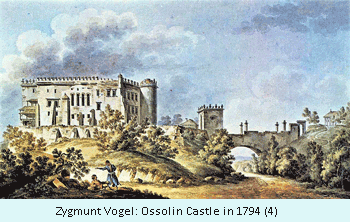 The Army had to be shrunk down to 30,000 and Captain Ledóchowski was the youngest member of a committee choosing which officers could be re-appointed, which he found difficult and embarrassing, particularly as it was the duty of the youngest to speak first.
On 24th February 1818 (2, p16) Ignacy's father divided his properties among his children and Ignacy received the Ossolin estate.  Unfortunately, Antoni had blown up Ossolin Castle in 1816 hoping to find treasure (14, p33).

The ruins were later used to build a distillery.  
A tower, which had survived, was destroyed by the Germans in 1944 in case it could be used as an observation post, and the stones were used to strengthen a road for tanks (4).  Today all that is left is a bridge in the shape of an arch, leading to the remains of the small tower seen in Vogel's 1794 watercolour.

In 1821 Ignacy married Ludwika Górska, daughter of Adam Górski, Starosta (Prefect) of the Wieksznie district in Lithuania, and Weronika Sierakowska, shown in this nineteenth century painting by an unknown artist (5).  The Górski and Ledóchowski coats of arms can just be seen in the top left corner.
1827: Commander of the Warsaw Arsenal
Ignacy was promoted Major and then Lieutenant Colonel of Artillery with the Royal Horse Guards.  In 1827 he was also appointed Commander of the Warsaw Arsenal (armoury).  Legend has it that he was strongly disliked by Tsar Aleksander I's brother Archduke Constantine, who was Commander-in-Chief of the Polish Army and de facto (not official) Governor of Poland, yet in 1828 he was still promoted to Colonel.   In the Arsenal he organised the first ever Polish muzeum of armoury (13, p7).  In 1829 the director of the print gallery at the Warsaw public library, Feliks Piwarski, made prints of the Warsaw Arsenal and dedicated them to its Commander, Count Ledóchowski, Colonel of the Polish Royal Guard.  (15, Click to enlarge.)  When Constantine saw it he is supposed to have furiously overwritten the dedication with a pen.  Surviving prints in our possession are dedicated to the memory of the Glorious Tsar and King Alexander I.  But the Colonel is still shown on crutches entering the Central Hall from the left.
Constantine's rule was increasingly repressive and unpopular.  A new Tsar, Nicholas I, crowned himself King of Poland in 1829, but refused to swear to abide by the Constitution and removed democratic institutions.  When on 29th November 1830 the "November Uprising" (powstanie listopadowe) began with a rebellion by young officers, Colonel Ignacy Ledóchowski himself opened the Arsenal up to the crowd.  In January 1831 his distant cousin Jan Ledóchowski was the first, after the Prime Minister of the Revolutionary Government, to sign the Sejm's Act Dethroning the Tsar as King of Poland, and to call out "Let's all state together then: Nicholas must go!" and lead the shouting "Down with Nicholas" (6).  Russian forces were driven out and Ignacy commanded the artillery division of the Polish forces under Colonel Siemianowski defending Praga (the East bank of Warsaw)(7).
At this time Ignacy's first cousins, sons of Apolonia, his father Antoni's sister who married Tomasz Witold z Urzynowa Ostrowski, also played an important role.  Antoni Ostrowski was General of the National Guard in Warsaw and Władysław Ostrowski was Marshal of the Sejm which dethroned Tsar Nicholas.
Commander of the Fortress of Modlin


On 5th February 1831 the Russian Army entered the Kingdom of Poland and on 6th February the Polish Commander-in-Chief Michał Radziwiłł appointed Colonel Ignacy Ledóćhowski Commander of the Fortress of Modlin (8).  This had been built, by order of Napoleon, where the Narew and Vistula rivers join.  Click the four cities map above for general location and map on the left distributed by the Modlin Museum for more detail.  The Fortress was then attacked and besieged by a large Russian Army led by their Field Marshal, known as Ivan Ivanovich Diebitsch by the Russians (Dybicz in Polish), and it appears from the correspondence below that there were at least four severe battles in the area just in February.
We have two further historic documents from this time. The first, a letter from the Russian Field Marshal dated 19th February 1831, starts:

"Monsieur le Colonel, God, Protector of just causes, has awarded victory to the Imperial troops.  The events of the 7th and the 13th have shown that further efforts to resist the progress of the arms of His Majesty will be in vain.  The Polish troops have fought valiantly and with a courage worthy of a better cause.  Their military vows have been fulfilled. These scenes of carnage should come to an end.....there should be an end to this war of fratricide. "  He continues to say "I have known you M le Colonel personally. You have been noticed by the Restorer of Poland.." (this probably means the Tsar-King Nicholas I)  "I know you are very brave...In order to avoid all this misery of war, all is needed is for you to return to your duty of loyalty to His Imperial and Royal Majesty.  Just renew the vows you have violated....The Emperor and King has proclaimed an amnesty...Those Poles who love their country should be the first to return...Think hard.  Your honour, your duty to your country and your Sovereign should be a guide to you now."   It then says:   "I have charged Colonel Kiel, Aide de Camp to the Grand Duke, to take this letter to you for our negotiations..."
"I hope M le Colonel that you will soon give me an opportunity to express my high esteem for you."  Diebitsch was German, born in Silesia near today's Wrocław with the name Count Hans Karl Friedrich Anton von Diebitcz-Zabalkansky, and he signed with this double barrelled surname.
The second document is Ignacy's record of his replies, which he no doubt had to make and keep in the days before scanners, photocopiers or even carbon copy paper.  The first is undated and starts:
"Monsieur le Maréchal, Colonel Kiel, Aide de Camp to the Grand Duke Constantine having not been able to wait for my reply, I have the honour of sending it to you now... The wishes of providence, which decide the fate of people, are impenetrable, it is true.  Meanwhile the Polish nation, considering its such noble and unanimous efforts, and its ancient rights, is now confidently counting on the blessing of heaven....Despite the colossal forces it is fighting, it believes it is at the eve of peace and independence....The garrison of Modlin, whom I have the honour of commanding, is full of the most patriotic feelings...it fought with so much glory for our Polish eagle during the days of 19th and 25th February, which will be remembered forever."  
It appears Diebitsch wrote another letter dated 3rd March and there is a record of a second reply, dated 5th March:
"..The spirit of the garrison of Modlin being perfectly known to me, I can firmly guarantee to you M le Maréchal that it will cede nothing to your Army ...even if the numbers of the thousands of martyrs to the love of national independence keep rising, the garrison will not hesitate to keep religiously to its military honour."
On 26th April 1831 Ignacy was promoted to General.  On 9th June, according to a leaflet circulated by Solidarity Warsaw during its 1981 fight for freedom, Ignacy wrote from Modlin "...It is hard to guess what God has in mind for our holy and bloody fight, but if we are to be defeated, let us end still inflicting terrible wounds on our enemies just before our death. Our grandchildren will rise again and maybe they will be more succesful." (Ignacy's grandson and other Poles did rise again and successfully regained independence in 1920.)  The next day, 10th June, Diebitsch died of cholera, although there are theories that he was poisoned on instructions from the Tsar.  The war against overwhelming odds continued.  Ignacy led regular attacks on neighbouring Russian units, building an impressive collection of Russian standards. 
On 6th September 1831 Warsaw fell to Diebitsch's successor, Field Marshal Ivan Paskiewicz.  Around 50,000 people, including the Revolutionary Government under Prince Adam Czartoryski, the Army and Sejm, moved to Modlin, where most of them camped in the enormous courtyard.  Modlin became the de facto capital of the country for a few days and on 9th September General Rybiński was elected the new Commander-in-Chief.  
As soon as these Polish forces left, the Russian Army closed in on Modlin and began an artillery bombardment.  General Ignacy rejected another request to surrender, from General T. Berg, and continued to defend Modlin with 7,000 troops.  After General Rybiński surrendered to the Prussians on 5th October it was clear that all other Polish forces had either been defeated or left the country, and Ignacy finally surrendered on 8th October 1831.  On 9th October, 300 officers signed a letter of gratitude and homage to General Ignacy before handing over the Fortress to Archduke Michael (11).  Field Marshal Ivan Paskiewicz then sent the keys to the Fortress as a personal present to Tsar Nicholas I in St Petersburg (8).  Ignacy was now a prisoner of war for the third time in his life.  Field Marshal Paskiewicz asked him why he did not surrender to Diebitsch earlier and Ignacy replied: "The best reason for me not surrendering then is that I held the Fortress until today".  
Two hundred leaders of the Uprising were sentenced to death or enslavement.  Ignacy was initially condemned to exile in Siberia but was pardoned, it is said at the personal request of Archduke Michael (11).  On 1st November Tsar Nicholas announced an amnesty for the officers.  The Polish Army was liquidated.   The officers were pensioned off and Ignacy was supposed to receive 9,000 złoty a year, which he never claimed.


Retirement
Ignacy sold the family estates and moved to Warsaw, where his wife Ludwika died on 16th June 1833.  He continued to travel, visiting the Czech capital Prague in 1836 for the coronation of the Austrian Emperor Ferdinand I.  There he was very warmly received by his former commander, Field Marshal Archduke Charles, Commander-in-Chief of the Austrian Army.  Later he travelled to Lithuania and to St Petersburg, to sort the will of his brother-in-law.
The lithograph on the right left in my family is by Johann Höfelich and is signed Kriehuber (a well known Austrian lithographer and painter) number 840.  It bears the signature of Ignacy with this dedication to his son: "With a father's heart, and very moved, I sign this portrait and give it to you my dear Antoni, in appreciation of your very kind wishes to me.  Mnichów, 13th June 1841."  I am not sure why this date was important, perhaps it was connected with 16th June, the anniversary of the death of Ignacy's wife and Antoni's mother.  Antoni was then 18.  Ignacy is wearing the Legion d'Honneur, as he is in the painting below.  Ignacy was also awarded the Order of St. Helena, created by Emperor Napoleon III of France for veterans of the Napoleonic Wars.
In 1855 Ignacy moved to the Dominican monastery in Klimontów, where he died on 29th March 1870 aged 81.  Family records say that at his request he was buried in the public cemetery.  In the 1970s my father took me to St. Joseph's church in Klimontów.  We found the coffins in the crypt in a terrible state and confirmed that General Ignacy was buried there together with crutches just like the ones in his portraits.  My father wrote to the priest twice offering to fund a clear up, but never received a reply.  He visited it again in the 1980s and left a donation.  
I am very pleased that after visits to the current parish priest Fr. Hendzel in 2017, we have been able to organise, with his help, a general tidy up of the crypt so it is now decently restored and in a respectable condition. 

Under Fr. Hendzel the parishioners of St. Joseph's, including in particular Mr Richard Kogut, also very kindly erected memorials both to General Ignacy and to his nephew, Cardinal Mieczysław Ledóchowski, who accepted his priestly cassock at an investiture ceremony in this church in 1841.
Ignacy's children
Ignacy and his wife Ludwika née Górska left four children:

1. Józef II (1822-1904), about whom there is little information in the books by Barącz (2) and Mieczysław (3), inherited the ‌Poszyrwińcie‌ ‌and‌ ‌Waszkiewicze‌ estates in Lithuania and ‌Gentyliszki‌ and‌‌ ‌Pralniki‌ in Sarmogitia (formerly North West Lithuania and today part of the Russian enclave around Kaliningrad) from his uncle Józef (General Ignacy's elder brother).‌  ‌
He married Aleksandra Łęska and had a son, Ignacy (1856-1929), a well known violinist.  In his book about Wilno (18), Edmund Małachowicz writes that Ignacy learnt to pay the violin from Faustyn Łopatyńśki, then studied in Paris, where he studied under the famous Lambert Józef Mossart in the Paris Conservatory, then under Bach Saward, and was admitted to play in the Opéra Comique orchestra.  Later he performed his own concerts in Paris, Królewiec (today Kaliningrad) and Warsaw.  In around 1890 he returned to Wilno, where in his parents' palace on Ostrobramska street he had a beautiful library of around 3,000 works on music, musical instruments and manuscripts, and a magnificent collection of violins.  He organised a memorial plaque on 3 Niemiecka street, where the author of the opera Halka libretto once lived.  After the First World War he lost his collections and his estates, perhaps because they were outside Poland's new borders.  In his last years he worked at the Wilno University Library.
Ignacy married Wanda née Bohuszewicz (1182-1942), a well known violinist and Professor at the Wilno Musical Conservatory.  After her husband's death she retired to a religious life.  They had no children.

2. Antoni II (1823-1885), who first married Countess Maria Seilern.  After her death he married Countess Józefina Salis-Zizers, whose children, and therefore General Ignacy's grandchildren, were Blessed Maria Teresa, Saint Urszula, General Wladimir of the Jesuits , Maria, Ernestyna, Franciszka - who married Mieczysław Ledóchowski - and General Ignacy II.

3. Anna (1824-1839), who died early and had no children.

4. Ludwika (1828-1860), who married Lucjan Morykoni and appears to have had no children.
Someone wrote on my copy of the coloured lithograph of General Ignacy at the top left of this article: "Quand on a eu un Grand Père comme voici est il etonnant qu'on aussi reve à la Pologne" (When one had a Grandfather like this, is it surprising that one also dreams of Poland). This could have meant any grandchild, perhaps the next General Ignacy?


Jan Ledóchowski, 2020
Sources:
(1) Krupa shown on map of Volhynia (Wołyń).  Rizzi Zanomi.  Published by Presso Antonio Zatta in Venice in 1781. Horyńgród and Klimontów shown on map of Kresy.  Published by PTR Kartografia in Warsaw in 2014, ISBN 978-83-60641-75-0.
(2) Pamiętnik Szlachetnego Ledóchowskiego Domu (Memoir of the Noble House of Ledóchowski).  Fr Sadok Barącz. Published by "Gaz. naród" J. Dobrzańskiego i K.Gromana, Lwów 1879, pp 125-130, 155-166.
(3) "… aby pozostał nasz ślad"  ("...so we may leave a trace").  Mieczysław Ledóchowski.  Published by Towarzystwo Przyjaciół Ossolineum,  Wrocław 2002.  ISBN 83-7095-051-5, pp 34-35, 82-91.
(4) Wikipedia.
(5) Catalogue of the Warsaw Historical Museum Exhibition on the Ledóchowski Family in November 2008.  Ed. Barbara Hensel-Moszczyńska. Wydawnictwo Duszpasterstwa Rolników, Włocławek.  ISBN 978-83-88477-83-6, pp 109-120.
(6) The Russian Empire.  Hugh Seton-Watson.  Oxford University Press, 1967 [822103/7/67], p285.
(7) Warszawa - Dzieje Fortyfikacji (The History of Warsaw's Fortification).  Lech Królikowski.  Wydawnictwo TRIO, Warsaw 2015. ISBN:978-83-7436-269-6, pp 14-15.
(8) Twierdza Modlin Przewodnik Historyczny (A Historical Guide to the Fortress of Modlin).  Piotr Oleńczak. Wydawnictwo Rajd, Warsaw 2016.  ISBN 978-83-60838-24-2, pp 17, 177-178.
(9) Map of the Fortress of Modlin, available at the Museum of the Fortress.  Click to enlarge.  Wydawnictwo Rajd, Warsaw 2016.
(10) Polski Słownik Biograficzny (A "dictionary" or collection of historical biographies of well known Poles).  Text on Ignacy written by Władysław Zajewski.
(11) Family papers refer to Archduke Michael twice, but I have found no independent information on him.
(12) Photo taken in 2021 with the kind permission of the current owner Mr Andrzej Widuch.
(13) Matka Niepodległości Polski, Moją polityką jest miłośc.  Mother of Poland's Independence.  My Politics is Love.  Saint Urszula Ledóchowska.  Zgromadzenie Sióstr Urszulanek Serca Jezusa Konającego.  Warsaw 2018.
(14) W dobrach Ossolińskich.  Klimontów i okolice.  In the Ossolin estate.  Klimontów and its surroundings.  Eugeniusz Niebelski.  Wydawca Urząd Gminy w Klimontowie, 1999 r.  Published by the Klimontów town council, 1999.  ISBN 83-911600-0-9.
(15) Click to enlarge picture.
(16) My father left me this photograph of an unknown painting.  Ignacy is wearing the uniform of a General of the Congress Kingdom of Poland and the Legion of Honour.  Similar to a painting by Leon Biedroński of a younger Ignacy in the Warsaw Museum Catalogue (5, p111), in which he is also wearing the St Helena medal and a medal for 15 years military service.
(17) Szlakiem Legionów.  Following the Legions.  From the memoirs of Dezydery Chłapowski.  Gebethner i Wolff, Warsaw and Kraków, 1903, pp 66 & 67.
(18) Wilno: Dzieje, Architektura, Cmentarze.  Wilno: History, Architecture, Cemeteries.  Edmund Małachowicz.  Oficyna Wydawnicza Politechniki Wrocławskiej, Wrocław 1996 r.  Wrocław Politechnic Press, Wrocław 1996 (pp. 357-8).